Betty Karimi Mwiti is a Tutorial Fellow at the School of the Arts and
Design, University of Nairobi, lecturing and supervising both
undergraduate and postgraduate students mainly in various aspects of
Communication Design as well as the Co-Design Process and Design
Thinking Methodology. Part of my responsibilities also include but
are not limited to mentorship of the final year undergraduate students,
where I assist them transition from the academic environment into the
job market; as well as linking them to potential employers.
My academic qualifications include a PhD in Design
(Communication Design), Master of Arts in Graphic Design and a
Bachelor of Arts in Design (First Class Honours) from the University
of Nairobi, Kenya. My PhD thesis focused on Design for Health,
where I studied Health Promotion Strategies towards the prevention
and management of Non Communicable Diseases in urban informal
settlements in Kamukunji, Nairobi County. With the help of the
community, I designed a community-led communication framework
that can assist in designing health promotion programmes suitable for
them. The PhD programme was a scholarship awarded on merit by
the Consortium for African Research Training in Africa (CARTA).
Prior to joining the academic field, I practiced as a Creative Director
in various advertising agencies, handling diverse projects for
Corporate Clients ranging from client service to advertising
campaigns. I am still actively practicing as a Graphic and Interior
designer with a focus on Corporate Branding and Advertising,
alongside being a Design Researcher. My research interests include
Community engagement and participation, with a key interest in
Urban Informal Settlements.
Photo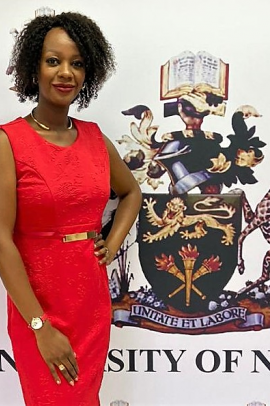 Project Summary
Bottom-up Design Approach: A Community-led Intervention in fighting Lifestyle Diseases within Urban Informal Settlements in Nairobi, Kenya.
Research Supervisors
Dr. Lilac A. Osanjo
Dr. L. Amollo Ambole
Health communication programmes in Kenya have mainly used a 'top-down approach' in designing health promotion strategies for communities. This approach has not been sustainable in promoting healthy lifestyles that would potentially stave off Non-Communicable Diseases (NCDs) within these settings. A 'bottom-up approach' of involving communities in decision-making about their health choices and what works best for them, is an unexplored area in health promotion programmes in Kenya. The 'bottom-up approach' engages communities in joint campaigns, causing a behaviour change and thus influencing an incremental alteration towards their intended goals.
The main objective of this research was to co-design a community- led communication strategy with the communities' health stakeholders that could be used in the prevention and management of NCDs amongst the urban 25-59 year olds living in informal settlements within Kamukunji, Nairobi County. Using the design thinking methodology a user-focused process was employed in engaging relevant health stakeholders in the design process of health promotion programmes. In-depth interviews, open-ended questionnaires, community dialogues, focus group discussions and a co-design workshop were used for data collection from 15 Community Health Volunteers, 50 Community Members and 6 Sub-county health officials from the study site.
Findings revealed major challenges faced towards awareness of NCDs included irrelevant health information, education and communication (IEC) material, poor health education and training methods and tools, as well as varied health literacy levels amongst the community. As a research output, a health communication strategy was designed that can frame target-specific health promotion programmes with the end-user at the core. Key benefits of this user-centered research emphasized the importance of co-design in developing health promotion programmes.