A designer who has a passion for creativity, innovation and empathy. I am determined to enhance communication using my artistic and design skills. I communicate fluently using pictures. Experienced in visually enhancing communication for a wide range of audiences so that it is more comprehensive, attractive and impactful. I have years of experience illustrating  behaviour change communication content for the social enterprise in low literacy settings.
I am also an experienced fine artist known for painting peaceful  nature paintings that enhance interior spaces. Exhibited my paintings in and outside Kenya.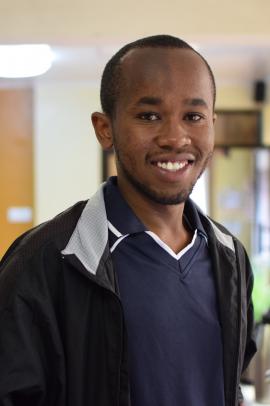 A STRATEGY TOWARDS ENHANCING VISUAL AIDS IN TRAINING OF CHILD CAREGIVERS IN DAYCARES WITHIN NAIROBI'S URBAN INFORMAL SETTLEMENTS
Research Supervisors
Dr. Lilac Osanjo, Dr. Betty Mwiti
As of 2017 there were 300,000 children living in Nairobi's informal settlements and at least 2700 informal daycares run by owners with little or no formal training on Early Childhood Education. and majority with low education levels. There have been some efforts to train caregivers in order to improve the quality of their services. Visual aids are inadequately used in the training of these child caregivers. Studies show that visual aids are highly successful in any behavioural change program because they aid the comprehension, attention and adherence of information especially in a low literacy setting as this. The main objective of this study was to a strategy towards enhancing visual aids in training of child caregivers in Nairobi's urban informal settlements.
This study was a participatory action research which is mainly qualitative in nature and involves a lot of collaboration with the population studied. Best practices from literature review in regards to using visual aids were analyzed. A case study of an organization that trains caregivers in Nairobi's urban informal settlements was conducted. A codesign session was held with trainers and designers and the inputs contributed to creating a strategy that would enhance the use of visual aids in the training. This study established that, if appropriately used, visual aids have a great potential to aid training of child caregivers in urban informal settlements. Results indicated that trainers use visual aids inadequately mainly because they are not empowered on how to use them. A visual analysis of their training materials revealed that visual aids are also not contextualized. This study proposed a strategy that will empower trainers to use visual aids by providing a simplified template that guides them on how to incorporate visuals in their training.
As informal child care centres are on the rise as informal settlements expand. Most caregivers in these centres are not formally trained, yet they offer a crucial service to the education system in the country. There is a need for a strategic training approach that will equip informal ECD caregivers with skills to enhance learning and child care in informal settlements. This study recommends a strategic way of incorporating visuals in training to ensure that they are more effective and have a greater impact to empowering caregivers and ultimately improving the quality of childcare.